At EVERWEALTH®, it's our mission to help you achieve financial peace of mind™ by understanding your wealth goals and working with you to develop a strategy for addressing those needs. As part of this, we focus on building relationships among your existing advisors, and helping to facilitate new relationships when necessary.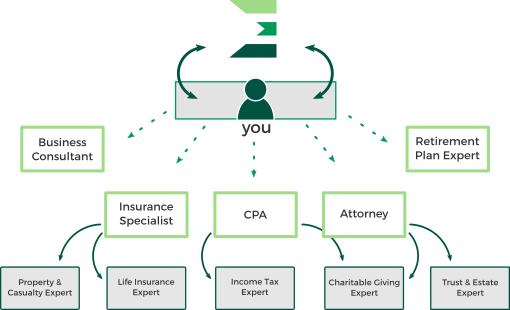 A COLLABORATIVE APPROACH
Traditionally, your communication to each of the professional advisors you worked with was kept separate from each other, For instance, your CPA probably didn't communicate with your attorney, and your insurance specialist had no idea who handled your taxes. There was no cohesion, no synergy. This illustration shows an example of the different professional experts you may utilize. As part of Relationship Management, we want to encourage a collaborative approach with you and your other professionals.
wm = ic + ap + rm
wealth management investment consulting
advanced planning
relationship management

Copyright © 2015-2019 | Wealth Management Advisors, LLC. All Rights Reserved
Everwealth®, located in Tulsa, OK, is a Registered Investment Adviser under the Oklahoma Uniform Securities Act of 2004. We provide wealth management and financial planning services. Past performance is not necessarily indicative of future results. Investing involves risk, including the possibility of financial loss. Please see our Disclosure section for important information.